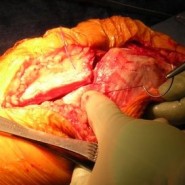 Technical Note
Volume 2 | Issue 3 | JOCR July-Sep 2012 | Page 31-32 |Kharat K
---
Closure in Knee Replacement Surgery
---
Author: Kiran Kharat
Dept of Arthritis and Joint Replacement, Ruby Hall Clinic, Pune and Aditya Birla Memorial Hospital, Chinchwad, Pune, India
Address of Correspondence  
Dr. Kiran Kharat, Dept of Arthritis and Joint Replacement, Ruby Hall Clinic, Pune, India. Email kiran.kharat@gmail.com Tel- 9850402703
---
    Abstract
Total Knee replacement (TKR) is one of the commonest arthroplasty surgeries performed. Various techniques of  closures in TKR are described. This technical note describes an useful technique of achieving water tight closure in TKR. An optimal tension watertight closure also reduces the chances of dead space hematomas and infection. The author has described his technique where the soft tissues are never unduly compromised. In his experience the patient can be mobilized freely in bed and even allowed to sleep prone after first wound check.
Keywords:Total knee replacement, Closure
---
How to Cite This Article: Kharat K. Closure in Knee Replacement Surgery – Technical Note. J Orthopaedic Case Reports 2012 July-Sep;2(3):31-32. Available from: http://www.jocr.co.in/wp/wp-content/uploads/2012/11/jocr-july-sep-2012-article-9.pdf
<![if !IE]><![endif]>
View ratings
Rate this article
Rate this article
Article ratings
Current average ratings.
Related Articles in Journal of Orthopaedic Case Reports