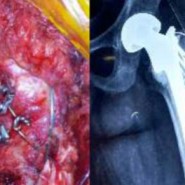 Technical Note
Volume 2 | Issue 3 | JOCR July-Sep 2012 | Page 28-30 |Venkata  SG, Reddy  GAV, Reddy  AKKR , Chiranjeevi  T
---
Greater Trochanter Reconstruction in Unstable Intertrochanteric Fractures Treated With Cemented Bipolar Hemiarthroplasty: A Technical Note
---
Authors: Venkata  SG, Reddy  GAV, Reddy  AKKR , Chiranjeevi  T.
1Sunshine Hospital, Secundarabad, Hyderabad, India
Address of Correspondence  
Anil Kumar Reddy KR [DNB Ortho] Institute > Sunshine Hospital, Secundarabad, Hyderabad, India. Email > docanil21@gmail.com
---
   Abstract 
Cemented Bipolar arthroplasty is an established method for treatment of comminuted Intertrochanteric  fractures. Reconstruction of greater trochanter is an essential technical step to avoid complications like abductor lurch gait. We here describe a technique of reconstruction and fixation of greater trochanter using    cancellous screws with wide washers made of reconstruction plate and tension band wiring. This gives a stable fixation of greater trochanter and avoids cut out, slippage of implants.
Keywords:Intertrochanteric fractures, greater trochanter fixation, cancellous screws, tension band wiring
---
How to Cite This Article: Venkata SG, Reddy GAV, Reddy AKKR , Chiranjeevi T. Greater Trochanter Reconstruction in Unstable Intertrochanteric Fractures Treated With Cemented Bipolar Hemiarthroplasty: A Technical Note. J Orthopaedic Case Reports 2012 July-Sep;2(3):28-30. Available from: http://www.jocr.co.in/wp/wpcontent/uploads/2012/11/jocr-july-sep-2012-article-8.pdf
<![if !IE]><![endif]>
View ratings
Rate this article
Rate this article
Article ratings
Current average ratings.
Related Articles in Journal of Orthopaedic Case Reports