JOCR Oct-Dec 2012 Announcements 
---
Insanely Readable Stuff About Joints
What we  at 'Arthropaedia' would like to offer:
 -Enable surgeons to crave to read papers about the art and science of joint surgery, papers that are easy to digest, so that they can use them effortlessly in their practice
– Encourage surgeons to think like scientists without boring them with excess details but giving complete access to data
– Entice surgeons to share their experiences, thoughts, and concerns in an engaging manner
– Inspire surgeons to conduct their own studies and trials, and facilitate their publication.
Interview (with spotlight on an illustrious surgeon and his work)
Perspective (highlighting topics from allied fields of biomechanics, anatomy,)
Reflections (essays from surgeons based on their personal lives, experiences, and career) 
Speculations (giving a free rein to surgeons' imagination and creativity)
Scientific papers (original articles and case reports limited to 1 page of an infographic abstract and 1 page summary of the paper)
Technical Notes (aspects of technique, tips and tricks)
Debate (1 page confrontation between 2 opposing points of view)
In Focus (in-depth discussion of a vexing problem by focusing on 2 or 3 recent articles on etiopathogenesis, diagnosis and treatment of intra-articular pathologies)
Current update (state-of-the-art summary of a diagnostic or therapeutic modality or technique) 
Emerging technology (what's new in technology, gadgets, gizmos in the clinic, operation theatre or elsewhere)
Research corner (tips on setting up trials, studies, funding and statistics)
Letters (howls of protest from enraged readers)
Endnote (listing of interesting Conferences, websites, Fellowships, etc)
What's new about all this? We intend the journal to be 100 pages of engaging text. All articles will be 1 or 2 pages long, written in an easy to read style, with little jargon, limited citations and references, abundant figures and infographics to provide the reader material that is thought-provoking, immersive and digestible. Additional material and data pertaining to the articles would be accessible by readers online on our website soon
---

---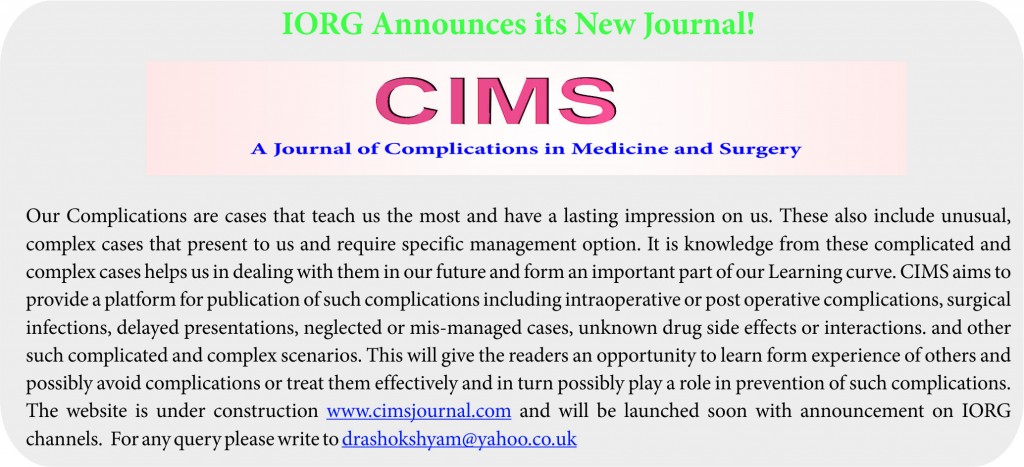 View ratings
Rate this article
Rate this article
Article ratings
Current average ratings.
---
Download PDF version
---
 Dear Reader, We are very excited about New Features in JOCR. Please do let us know what you think  by Clicking on the Sliding "Feedback Form" button on the  <<< left of the page or sending a mail to us at editor.jocr@gmail.com 
---
Related Articles in Journal of Orthopaedic Case Reports