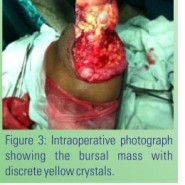 What to Learn from this Article?
Rare presentation of CPPD in form of isolated bilateral olecrenon bursitis.
---
Case Report |  Volume 4 | Issue 1 | JOCR Jan-Mar 2014 | Page 3-6 | Patel J, Girishkumar, Mruthyunjaya, Rupakumar C. S
DOI: 10.13107/jocr.2250-0685.137
---
Authors: Patel J[1], Girishkumar[1], Mruthyunjaya[1], Rupakumar C. S[1]
[1]Dept of Orthopaedics, J.S.S. Hospital, Ramanuja Road, Mysore – 570004, Karnataka, India.
Address of Correspondence:
Dr. Jignesh Patel, C/6 Santmani Appt., Near Premchandnagar road, B/H Bodakdev. Tel. Exchange, Bodakdev, Ahmedabad – 380015, Gujarat, India. M: 91-9998021550 Email: docjig11@gmail.com
---
Abstract
Introduction: Calcium pyrophosphate crystal deposition disease (CPPD) is the most common form of crystal arthropathy second only to gout. Common clinical presentation is an acute monoarticular arthritis commonly occurring in knee joints. We presented a case of bilateral olecranon bursitis in a calcium pyrophosphate crystal deposition disease.
Case Report: A 42-year-old female patient is presented with golf ball sized painless swellings in the posterior aspect of her elbows. Elbow joints were clinically normal except for restriction of terminal flexion. X-ray showed mild erosion at the tip of olecranon. Excision biopsy of the swelling showed positive birefringent calcium pyrophosphate dehydrate crystals on the inner wall of the specimen on polarized light microscopy.
Conclusion: Bilateral olecranon bursitis may be part of the extraarticular manifestations of calcium pyrophosphate dihydrate crystal deposition disease with good prognosis following in toto bursa excision.
Keywords: Olecranon Bursitis, Crystal deposition disease, Calcium pyrophosphate, Elbow.
---
How to Cite This Article: Patel J, Girishkumar, Mruthyunjaya, Rupakumar C. S. Bilateral Olecranon Bursitis – A Rare Clinical presentation of Calcium Pyrophosphate Crystal Deposition Disease. Journal of Orthopaedic Case Reports 2014 Jan-Mar ;4(1): 3-6. Available from: http://www.jocr.co.in/wp/2013/04/13/2250-0685-098-fulltext/
---
---

---
---
 

View ratings

Rate this article

Rate this article

Article ratings
Current average ratings.



---
Dear Reader, We are very excited about New Features in JOCR. Please do let us know what you think  by Clicking on the Sliding "Feedback Form" button on the  <<< left of the page or sending a mail to us at editor.jocr@gmail.com 
---
Related Articles in Journal of Orthopaedic Case Reports