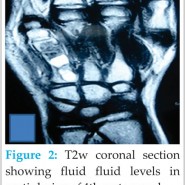 What to Learn from this Article?
Rare Presentation of UBC with Management.
---
Case Report |  Volume 4 | Issue 3 | JOCR July-Sep 2014 | Page 63-65 | Patwardhan S, Shah K, Shyam A, Sancheti P.  DOI: 10.13107/jocr.2250-0685.157
---
Authors: Patwardhan S[1], Shah K[1], Shyam A[1], Sancheti P[1]
[1] Department of Orthopaedic, Sancheti Institute for Orthopaedics and Rehabilitation 16, Shivajinagar, Pune, India.
Address of Correspondence:
Dr. Kunal Shah , Sancheti Institute for orthopaedics and Rehabilitation 16, Shivajinagar, Pune, India. Email: orthokunal@yahoo.com
---
Abstract
Introduction: Simple bone cyst or unicameral bone cyst (UBC) are benign cystic lesions commonly found in femur and humerus. However hand is a very rare site of occurrence. Treatment described for UBC of hand commonly involves curettage and bone grafting.
Case Report: A 7 year old right hand dominant girl presented to us with chief complaints of pain and swelling in right 4th metacarpal since 2 month. On imaging, plain radiographs of right hand showed expansile lytic lesion on Metaphyseal-diaphyseal region of 4thmetacarpal with pathological fracture.MRI showed cystic lesions with internal loculations and fluid-fluid levels (Fig 2). There was minimal soft tissue extension. We performed aspiration which showed serosanguinous fluid with haemorrhagic tinge. With the diagnosis of unicameral bone cyst in mind we performed and closed intramedullary nail with k wire. The cyst healed up completely within 2 months. There was no recurrence at 18 month follow up.
Conclusion: In conclusion simple bone cyst is very rare in metacarpal bone. However it should be considered as important differential since it warrants simple treatment and extensive procedures should be avoid.
Keywords: Simple bone cyst, metacarpal, k wire.
---
How to Cite This Article: Patwardhan S, Shah K, Shyam A, Sancheti P. Simple Bone Cyst of Metacarpal: Rare Lesion with Unique Treatment. Journal of Orthopaedic Case Reports 2014 July-Sep;4(3): 63-65. Available from: http://www.jocr.co.in/wp/2014/07/11/2250-0685-200-abstract/
---
---

---
---
View ratings

Rate this article

Rate this article

Article ratings
Current average ratings.
---
Dear Reader, We are very excited about New Features in JOCR. Please do let us know what you think  by Clicking on the Sliding "Feedback Form" button on the  <<< left of the page or sending a mail to us at editor.jocr@gmail.com 
---
Related Articles in Journal of Orthopaedic Case Reports