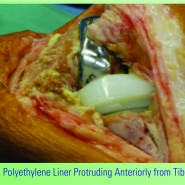 What to Learn from this Article?
Unusual Complication of TKR with its Management.
---
Case Report |  Volume 4 | Issue 2 | JOCR April-June 2014 | Page 60-63 | Jeavons R, Dowen D, Rushton P, Ryan D, Gill P. DOI: 10.13107/jocr.2250-0685.170
---
Authors: Jeavons R[1], Dowen D[2], Rushton P[3], Ryan D[1], Gill P[2]
[1] Orthopaedic Registrar, Darlington Memorial Hospital, Darlington, United Kingdom.
[2] Orthopaedic Registrar, Sunderland Royal Hospital, Sunderland, United Kingdom.
[3] Orthopaedic Registrar, Royal Victoria Infirmary, Newcastle upon Tyne, United Kingdom.
Address of Correspondence:
Dr. Richard Jeavons, 20 Fairway Court, Fletcher Road, Gateshead, Tyne and Wear, NE8 2AY, England. E-mail: richardjeavons@yahoo.co.uk
---
Abstract
Introduction: Fracture of the modern polyethylene insert of a total knee arthroplasty is rare. We describe the first case of a fractured anterior locking flange of the commonly used Depuy Press-fit Condylar (PFC) Sigma prosthesis.
Case Report: The 80 year old Caucasian gentleman presented 8 years following previously uncomplicated and successful primary total knee replacement with pain, swelling and symptoms of instability of the knee. He was able to sublux his knee posteriorly using his hamstrings. Dissociation of the liner was evident on radiographs. He underwent revision of the polyethylene liner. It was evident during the revision that the anterior locking flange of the polyethylene liner had fractured allowing it to dissociate from the tibial tray. At 12 months following this revision he continues to do well and has similar range of movement and function to prior to the episode. This cause of the failure is not clear.
Conclusion: Surgeons should be aware of this rare complication when assessing a painful or unstable total knee replacement. 
Keywords: Arthroplasty; revision; implant failure.
---
How to Cite This Article: Jeavons R, Dowen D, Rushton P, Ryan D, Gill P. Fracture of the Anterior Locking Flange of a Total Knee Arthroplasty Polyethylene Liner Presenting with Pain following Knee Replacement. Journal of Orthopaedic Case Reports 2014 April-June;4(2): 60-63. Available from: http://www.jocr.co.in/wp/2014/01/11/2250-0685-147-fulltext/
---
---

---
---
[rate_this_page]
---
Dear Reader, We are very excited about New Features in JOCR. Please do let us know what you think  by Clicking on the Sliding "Feedback Form" button on the  <<< left of the page or sending a mail to us at editor.jocr@gmail.com 
---
Related Articles in Journal of Orthopaedic Case Reports